Prewire now and save in the future!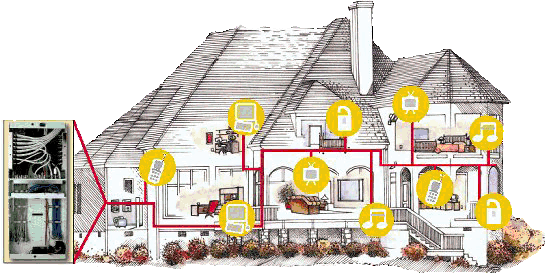 We get asked all the time "What should I wire for when building my new house?" and the reply is always "As much as possible!". It's tremendously easier and less expensive to get wiring in the walls before drywall goes up! Let Electronic Life serve as your adviser during this stage, it's what we do best!
Even though "wireless" is the big term these days, there are still an awful lot of devices that work best when hardwired. Wireless devices work on batteries and wireless signals. Batteries need replaced over time, and wireless signals can vary based on the environment. Hardwired devices connect directly to each other, which typically results in faster, more robust performance. So while wireless is fine for some things, we still highly recommend to wire everything possible now, so that your system will work at it's best.
Some of the things you'll want to think about:
TV, Phone and Internet wiring- where will any TV's, media players or computers go?
Security System wiring- this includes security systems and video cameras.
Distributed Audio wiring- what rooms or areas do you want sound? What do you want to hear in those areas? TV, Satellite, Netflix, Pandora, iTunes, etc.
Access Points- want super-strong WiFi? Make sure to wire for a few access points throughout the property.
Control- How do you want to operate all your TV's, Sound systems and other automated devices? Do you simply want handheld remote controls? Or touchscreens and mobile apps?
Automated devices- do you want things like automated window shades, door locks, garage doors, and lighting?
Planning these items will save you a bunch of money down the road. When you are building or remodeling, it's much easier for our Electronic Life techs to prep for whatever it is you want now and later.
Electronic Life can help you in many different ways! We can simply help you establish a rough scope of work and budget, or we can go the full distance and implement complete design and engineering services. It's up to you!
Click here more some ideas and more info, or contact one of us today for a free estimate!